Hylands: A Rich History And a Promising Future with Its Baby Oral Pain Relief Line
Hyland's is recognized as the largest and oldest manufacturer of an established portfolio of homeopathic medicines in North America. Founded well over a century ago, the mission of the company has been to provide solutions through the production of safe and gentle homeopathic medicines for the entire family. Hyland's may be best known for its pediatric products and baby oral pain medicine. The company has a deep history of dedication to helping families address a wide array of health concerns.
The Hyland's Story
Hyland's is a unique company in this day and age. It is deeply connected to its roots, while at the same time firmly grounded in the present and laying a foundation for the future that includes meaningful scientific progress. The Hyland's team believes that, by valuing its history, it is much better connected to and able to serve the families that use its medicines. In addition, the Hyland's mission advocates for the body's ability to rely on itself and its own natural defenses to both heal and restore balance, a principle which is at the core of all homeopathic medicine.
The Hyland's story dates back to 1903 in downtown Los Angeles on 7th Street between Broadway and Spring, when eight of the city's physicians founded a company called Standard Homeopathic Pharmacy. These physicians hired a local pharmacist, George Hyland, to manage the day-to-day operations of the new pharmacy. The retail pharmacy was conducted at street level, while manufacturing took place in the basement of the building. By 1910, Hyland acquired the business and expanded the original compounding pharmacy into Standard Homeopathic Company.
Cecil Craig joined the organization in 1923 while he was still a pharmacy student. Four years later, upon graduating from pharmacy school, he began managing the manufacturing lab. In 1940, he developed Hyland's Pink Aspirin for Children, which was not a homeopathic product. He was inspired by his daughter's inability to swallow traditional pills. For this product, he created a unique dissolving tablet that his daughter could take more easily, as there was no pill swallowing involved. This quick-dissolving pill form became a hallmark of Hyland's medicines and is a key factor in the company's success in the pediatric market.
Eventually, manufacturing expanded beyond the limits of the original location, and the company moved completely in 1953. This was the first in a series of moves to accommodate growing manufacturing needs. The company, however, never strayed far from its roots in Los Angeles. In 1969, the company began manufacturing on 131st Street in Los Angeles, where it remains today while continuing to expand its manufacturing footprint with additional buildings.
In 1987, Jay Borneman was recruited to Hyland's as its marketing director. Borneman, who is the fourth generation in the homeopathic industry, broke into the more traditional food, drugstore, and mass merchandiser market with Hyland's Teething Tablets. These teething tablets went on to be one of the most popular teething products on the market at the time.
The year 1995 was an important milestone for Hyland's, as it acquired Luyties Pharmacal Co. and so became the oldest American-owned homeopathic manufacturer in the United States. In 1998, it founded 1-800 Homeopathy, a mail order catalog that became known for its distinctive branding. That year, it also expanded its direct-to-consumer customer base from an initial 2,500 to 150,000 clients online and through direct mail.
Hyland's Today
The health needs of the modern family are changing. Hyland's is cognizant of these changes and prides itself on being a leader in innovations that address them. At a time when the beneficial effects of so many conventional medicines have come at the expense of complicated or even harmful side effects, the need for homeopathic medicines that are free of artificial dyes and parabens is higher than ever.
Hyland's has adjusted its business model to fit well within these modern needs. The company has successfully established and maintains multichannel promotions and maximizes social media efforts, all while respecting long-standing relationships with its retail partners. The overall expertise of Hyland's within its discipline is highlighted even more through retailers that habitually rely on the company's competence in and knowledge of homeopathy.
According to Thao Le, Vice President of Marketing, "Retailers often reach out to Hyland's for advice on planograms, merchandising options, and product promotion. They trust our team to give honest feedback, and they trust our products as a safe alternative to the more conventional drug options." She also discusses how Hyland's is an expert at both identifying and cultivating niche audiences while addressing concerns through empathy, relevant content, and helpful products. "We always seek to be transparent and have led the way in how we approach Drug Facts and other product information," she adds. "In obtaining that information, we have made huge investments in quality, assay development, and analytical testing. We take pride in celebrating over a century-long commitment to excellence."
A Wide Array of Homeopathic Medicines
The company's pipeline contains products that share the milestones of people's lives, ranging from master athletes in their endurance endeavors to parents in their pursuit to ease their children's discomforts. The most distinguishable beneficial aspect is that, without any known side effects associated with them, Hyland's offers such a wide range of homeopathic products for a variety of ailments.
According to its website, the company is "there when legs are needing a rest, when aching ears need drops, when noses need unclogging, and when little bugs in the hair become big problems for everyone." Its categories are separated into pain relief; cough, cold, and flu; oral pain relief; allergies; digestion; ear treatments; stress and sleep; first aid; skin care; and women's health.
The Hyland's Pain Relief line includes products designed to relieve discomfort due to overexertion, injury pain among athletes, leg cramps, and agitated legs. It also helps with issues like joint and muscle soreness; baby bumps and bruises; migraine headaches; backaches; and minor arthritis pain. Its cold, cough, and flu category contains products designed to address both day and nighttime cold and flu symptoms among babies, children, and adults. These products are available in several forms such as syrup and easily dissolvable tablets.
Hyland's stress and sleep remedies are designed to alleviate symptoms such as stress, anxiety, and occasional sleepiness. Most notably, they are non-habit-forming and contain no sedatives, which means that they are not known to cause side effects related to grogginess and are safe to take with other medications. Hyland's skin care category contains items to help alleviate symptoms associated with bug bites, poison ivy/oak, hives, and hemorrhoids. Lastly, the women's health category contains products to help with discomfort from menstrual cramps and menopause symptoms.
Hyland's also carries cell salts, remedies that address the body's mineral imbalances by triggering its natural healing process. The unique aspect of these products is in the design; both the tablets and the powder dissolve almost immediately on the tongue.
Recently, the company released Hyland's Baby Oral Pain Relief Tablets, a new formula created to treat a broad range of oral pain symptoms including gum sensitivity, irritability, tooth pain, and mouth soreness. This new formula is different from that of its previous oral pain medicines and covers a broader range of symptoms.
A New Solution for Moms and Babies
Hyland's Baby produces homeopathic medicines for babies under the age of two using only natural active ingredients. Hyland's Baby Oral Pain Relief Tablets are the homeopathic solution for relief of overall oral discomforts including tooth and gum pain, irritability, and gum swelling. This over-the-counter product is an easy, safe, and gentle remedy that is much needed in the process of comforting babies.
The ingredients included in Hyland's Baby Oral Pain Relief Tablets have a long history of use in homeopathy for the symptoms indicated on the label. They contain no artificial flavors, dyes, parabens, belladonna, or benzocaine. Rather, the primary active ingredients are arnica and chamomilla. The tablets are easy for parents to administer and quick to dissolve. In addition, Hyland's Baby Oral Pain Relief Tablets come in two formulas, one for daytime and one for nighttime. The latter is designed to provide natural and safe relief of pain, irritability, gum swelling, and occasional sleeplessness associated with oral discomfort.
Hyland's Baby Oral Pain Relief Tablets are ultimately designed to remedy pain that originates from all oral sources. Hyland's Baby is committed to providing moms with peace of mind in choosing medicines for their babies. With high-quality ingredients and processes, the brand is confident in the safety of its products and has been continuously working to serve these families.
Hyland's Baby Oral Pain Relief is Unique from Hyland's Baby Teething Tablets
Hyland's Baby Oral Pain Relief Tablets are an all-new product, not intended to replace the company's teething tablets. While Hyland's Baby Oral Pain Relief Tablets can provide relief from tooth pain, they are created to address a broader variety of baby discomforts, including gum sensitivity and oral soreness.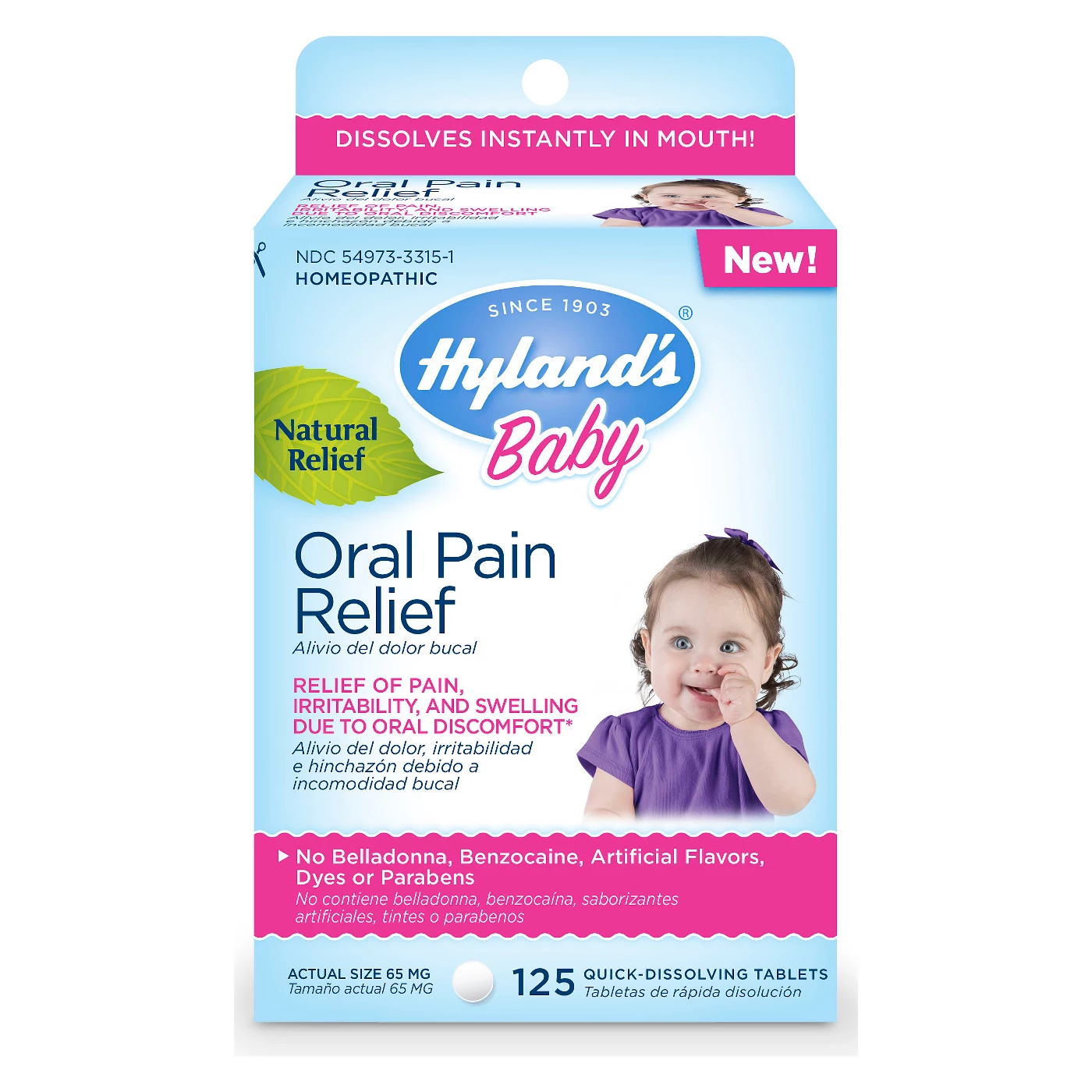 Hyland's Baby Teething Tablets resolved a very narrow and specific symptom set, namely the relief of common teething symptoms. The new Hyland's Baby Oral Pain Relief Tablets help relieve a broader symptom set that also includes gum pain from swelling, sores, and sensitive gums. It also relieves overall irritability associated with oral discomfort.
Hyland's Teething Tablets and Gel were discontinued in 2016 and subsequently recalled in 2017 by the company, largely at the request of FDA, which had concerns regarding a labeling issue and belladonna. However, Hyland's stands behind the safety of its  Teething Tablets, given that its own and the FDA's testing did not find any unsafe amounts of the homeopathically-prepared belladonna in any of its products. Despite the trust in its medicine's safety, Hyland's clearly heard the FDA's concerns regarding the use of the active ingredient belladonna and decided not to include this homeopathic active ingredient in its new Hyland's Baby Oral Pain Relief Tablets.
Hyland's Baby
Hyland's Baby Oral Pain Relief Tablets are just one highlight of the Hyland's Baby brand. The Hyland's Baby line of medicines works to resolve a wide range of symptoms and give moms peace of mind. In addition to Hyland's Baby Oral Pain Relief Tablets, the brand offers Tiny Cold Tablets, Mucus and Cold Relief Syrups, Colic Tablets, Earache Drops, Cough Syrups, and Gas Drops.
All of Hyland's products are made with natural active ingredients, which are not known to have any drug interactions. Plus, the medicines can be easily given without fear of giving the wrong dosage. For these reasons, many parents trust Hyland's Baby products. The oral pain relief tablets, along with Hylands' many products are easily administered and can assist babies from 6 months to three years of age.
The Hyland's Leadership Team
Hyland's views the community that makes up its team as an extended family. Its team members are both experts in their areas and passionate about their work to improve the lives of the nation's families. The company's commitment to excellence within the discipline of homeopathic pharmacy is evident in the background and expertise of its leadership team, who have driven Hyland's growth and vision for the last decade.
John P. (Jay) Borneman, Ph.D., the company's Chairman and Chief Executive Officer, is the fourth generation in his family in the business of homeopathic pharmacy. He joined Standard Homeopathic Company (SHC) and Hyland's, Inc. in 1987. He serves as a member on the Board at SHC. He is also dedicated to being President of the Board of the Homoeopathic Pharmacopoeia Convention of the United States and the chair of the Audit Committee of the Consumer Healthcare Products Association of the Southwest College of Naturopathic Medicine and Health Sciences. He is also an emeritus director of the National Center for Homeopathy.
He has served on various advisory boards including the College of Arts and Sciences at St. Joseph's University, The Board of Visitors for USciences (Philadelphia), and the National Association of Chain Drug Stores. He has chaired the Legal and Regulatory Affairs Committee of the American Association of Homeopathic Pharmacists since 2001. He was Adjunct Associate Professor of Health Policy and Public Health at the University of the Sciences in Philadelphia in 2012, where he now serves as a Dean's Professor in the Mayes College of Healthcare Business and Policy. Borneman obtained his bachelor and master degrees in chemistry from St. Joseph's University in Philadelphia, as well as an MBA with a concentration in finance. He earned his Ph.D. from the Department of Health Policy and Public Health at the University of the Sciences in Philadelphia.
Other members of the Hyland's leadership team include Dan Krombach as President, Chief Financial Officer, and Treasurer and Margot Murphy Moore as Chief Strategy Officer. Dan Krombach joined the company in 1992 as its controller. Prior to that, he spent five years as an auditor at Deloitte & Touche, specializing in manufacturing, distribution, and retail clients in Southern California. Krombach is a member of the executive committee and leader of the company's management team. He is a certified public accountant and a member of the American Institute of Certified Public Accountants. He also holds the positions of Director and Executive Officer for a number of not-for-profit religious and educational institutions.
Moore leads all of Standard Homeopathic Company's subsidiary businesses, including its direct-to-consumer and direct-to-professional operations. Moore also negotiated the acquisition of the Canadian division and today continues to guide the operations of Hyland's Canada. In all her leadership roles, Moore persistently nurtures the entrepreneurial and innovative family culture that has been an essential part of the company's corporate success. She is also Chief Strategy Officer at the consolidated corporate level, managing the evaluation, financing, and integration of corporate investments, acquisitions, and strategic alliances. She is involved in several organizations as a thought leader and board member in the international homeopathic industry and the direct marketing industry.
Recent Accolades
Hyland's Baby Oral Pain Relief Tablets was this year's winner of the National Association of Chain Drug Stores (NACDS) Total Store Expo Product Showcase. Evaluated by the retail attendees, the tablet was the winner of the "Product Showcase" in the baby care category. Along the same lines, Hyland's was also one of the few recipients of Drug Store News'(DSN) Retail Excellence Awards for over-the-counter products as recognition for being an exceptional leader in its corner of the world of the over-the-counter products. According to DSN, Hyland's is one of the few companies that is truly distinguished in a sea of businesses that produce over-the-counter medicines. It was recognized for its constant drive to innovate and change the way consumers view over-the-counter medicines. In other words, Hyland's was recognized as being a disruptor, or "someone with the foresight to identify the needs of an ever-changing market and then meet those needs more effectively."
The ability of Hyland's to prioritize the safety of its consumers first and foremost, along with its transparency, has allowed for further growth and development. Hyland's values its customers and has worked to maintain its values of assisting families with its unique line of homeopathic products.  To find out more about Hyland's, please visit the company's website. More information can also be found on its Facebook and Instagram pages. Hyland's products are sold at Walgreens, CVS, Amazon, and the company's website.